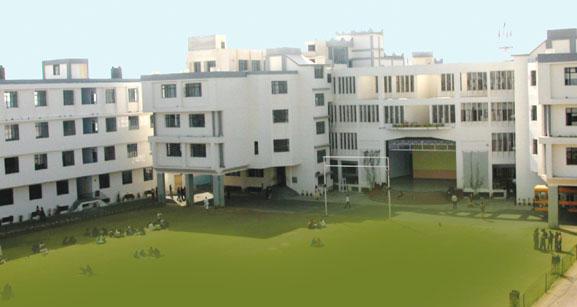 The infrastructure facilities at IIS (Deemed to be University), Jaipur provide a conducive environment for effective learning and overall development of its students. The university offers well equipped classrooms & research labs, Campus Security & CCTV surveillance, Auditorium, Wifi, Accommodation for students , Dining, Sports Facilities, Gymnasium, Infirmary, Centralized & Departmental Library, Transportation etc.
Campus: IIS (Deemed to be University), Jaipur is located on a sprawling campus of 50,331 sq.m. 
Center for Information & Technology: The university has one of the most advanced computer departments. Housed on two floors, the department has more than 300 desktops and servers. 
Classrooms: Spacious and well ventilated class rooms with basic infrastructure like Green Boards, cupboards. Also equipped with ICT resources like White boards/ Screens, LCD Projectors, Microphones, Public Address System, CCTV cameras  to create an effective high performance & learning environment.
Audio Visual Rooms: There are three air-conditioned conference halls equipped with state-of the-art audio-visual systems. 
Auditorium : 03 with seating capacity of 800, 200 & 250 per.
Senate Hall: 01 with seating capacity of 150.
Seminar Halls:  03 in number
Meeting Room: Well equipped rooms evolved to take on a modern look with state –of –art technology with motorized drop down screens & projectors.
Transportation: A fleet of Forty Six buses, equipped with wire-less system, provides transportation facility to the students.
Library: The Central Library is well stacked and fully computerized with . It has a good collection of reference & text books with subscription to national and international magazines and journals of repute. The Library offers a range of other services, including reference and consultation, membership and circulation, photocopying, resource-sharing, information-alert service, user-awareness programmes and access to the world's online library of books i.e. Questia, Delnet. There is a book bank service for the students. More...
Hostel:  Three centrally air-cooled hostels provide good quality vegetarian food, hygienic living conditions and a disciplined environment. 
Health Care: A well-equipped Infirmary is situated in the center of the campus. The nursing superintendent provides and facilitates medical assistance to the students. More...
Sports: The Physical Education Department provides games and sports facilities with specialization in Basketball, Volleyball, Table Tennis and Swimming. ICGians have brought laurels in various inter-college tournaments at the State and the National level. More...
Cafeteria: On-campus Cafeteria dishes out mini meals, snacks, fresh juices, etc. catering to varied tastes. The campus also houses a bakery cum confectionary outlet and AMUL window parlour. 
FM Radio: A journey into creativity 'FM Radio 7' is a radio station of the students, for the students and by the students. Conceived, designed and created by the budding talents of IIS Institutional Network, the programmes aim at education through entertainment and entertainment through education. On air at 90.4 MHz FM, this edutainment media is an innovative powerhouse for students and staff to learn the nitty-gritty of broadcasting, creativity and communication skills.
Language Laboratory: The language laboratory, well-equipped with audio-visual installation, provides an important aid in modern language teaching and learning.  
Studio/Audio Visual Lab: State-of-the-art Audio Visual Lab and air cooled TV Studio fully equipped with High definition cameras, online and offline editing system and sound recording equipments.
DG (Diesel Generator) Set: A sophisticated DG Set provides round the clock power backup to the entire campus.  
PA (Public Announcement) System: A network of central PA System is an important asset with the institution. It connects all the six blocks of the building and facilitates easy flow of information. 

Parking Plaza: The institution has a provision for safe parking of vehicles for the faculty as well as the students in the campus.
Housekeeping & Upkeep of University Campus
IT Planning and Monitoring and Maintenance and record keeping of Audio Visual Aids
Canteen ( to take care of maintenance, upkeep seating arrangements, quality, menu and price control)