Grievance Appeal Committee
The Student Grievance Redressal Committee at IIS (Deemed to be University), Jaipur, looks into complaints lodged by students and judges each case on its merit. The Committee is empowered to look into both academic and non-academic matters. It has been constituted to maintain a responsive, disciplined, accountable and harmonious atmosphere among all the members of the University. The Committee meets once in three months, or as and when required, at the instance of the Nodal Officer.
Constitution:
S.No.

Name of the Members

Designation

 

1.     

Prof. T.N. Mathur

Vice Chancellor

 

Chairperson

(Ex-Officio)

2.     

Dr. Raakhi Gupta

Registrar

 

Member

3.     

Dr. K.S. Sharma

Advisor

 

Member

4.     

Dr. Sreemoyee Chatterjee

Department of Biotechnology

 

Nodal Officer

5.     

Prof. Ila Joshi

Department of Home Science

 

Member

6.     

Dr. Mahima Rai

Department of HRM & IB

 

Member

7.     

Dr. Shweta Kastiya

Department of Management Studies

 

Member

8.     

Devika Singh

Current Student 

 

Member

9.     

Khushi Charan 

Current Student 

 

Member

10.  

Priyanka Natani

Alumna

Member

11.  

Somya Gautam

Alumna

Member

12.  

Ms. Upma Rajeev

Administrative Assistant

 

Member

13.  

Dr. Arvind Sharma

Office Assistant

 

Member

14.  

Dr. Rimika Singhvi

Department of English

 

Member Secretary
Scope:
The scope of the Committee includes:
Facilitating a fair and just evaluation of student-complaints
Developing a student support system based on feedback/grievance/complaints
Encouraging a student-friendly, learner-centric system
Functions:
Each case is attended to promptly on the receipt of written grievances from the students.
The Committee then gives a report to the higher authorities about the cases attended to and the number of pending cases, if any, which require direction and guidance from them.
The Committee thus ensures a fair, unbiased and transparent resolution of student grievances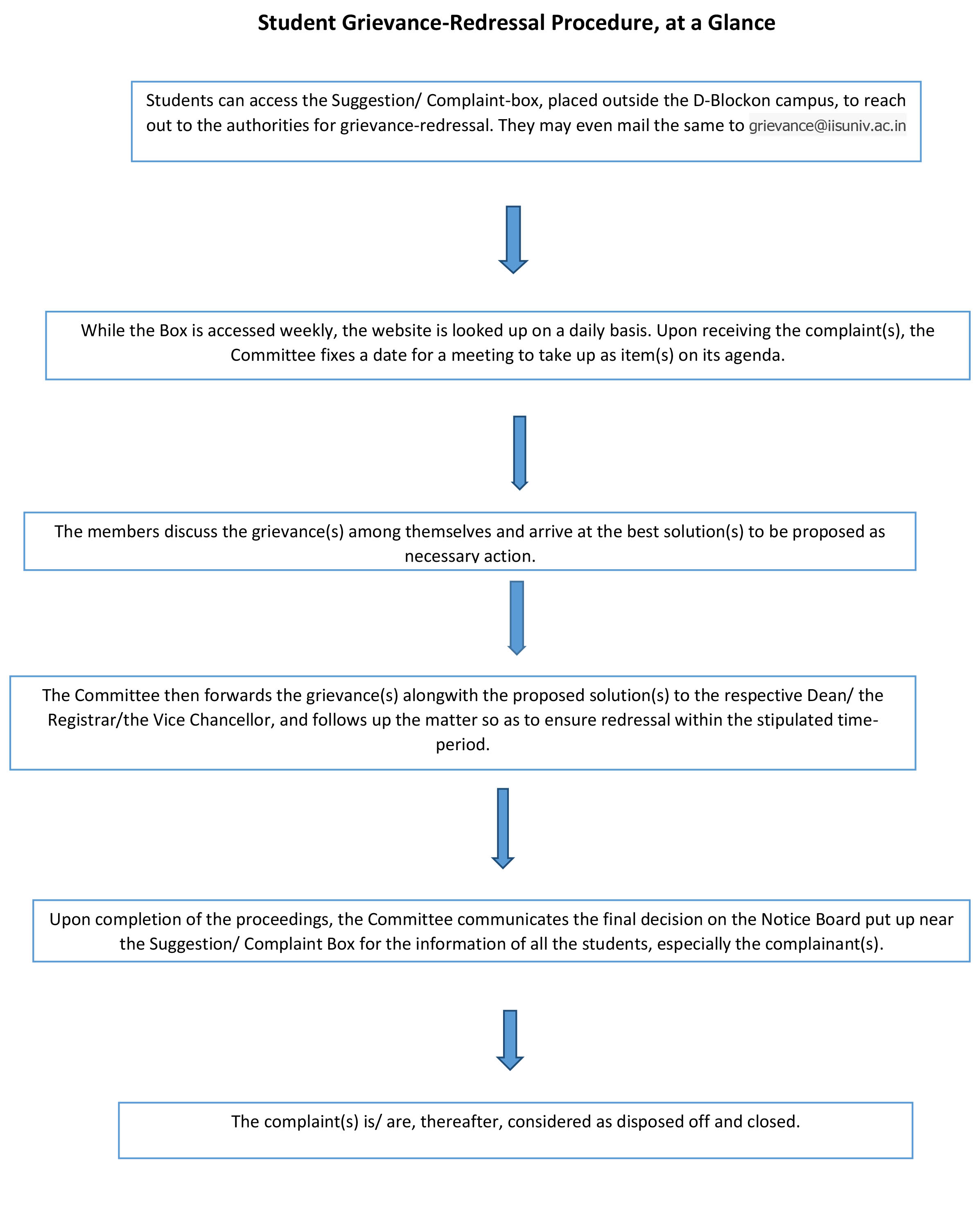 Procedure for lodging a complaint:
The students may feel free to submit a grievance in the Format available on the University website (https://iisuniv.ac.in/student-welfare/students-grievance) and mail it on grievance@iisuniv.ac.in or drop it in Complaint Boxes placed outside Main Block, D Block, E Block and Vice Chancellor's office.
The Committee will then act upon those cases which have been forwarded, along with the dully filled-in Form.
The Committee will ensure that the grievances are redressed within the stipulated time period.
Student Grievance Handling Mechanism
The following mechanisms are in place for timely action towards grievance-handling:
Mentor-Mentee System – For the benefit and guidance of the students, this feature exists in most institutions. Regular meetings between the Mentor and the Mentee are held wherein students are free to discuss any personal or academic problem being faced by them.
Counselling Cell – This Cell is functional to counsel and guide the students for their overall development, including appropriate intervention needed to redress any grievance at the initial stage.
Complaint Box – A Complaint Box has been placed at outside Block Dfor students to access it conveniently and drop the duly filled-in Grievance Form.
Open Door Policy – All students are free to personally contact the Vice Chancellor, or the Registrar,during the University working-hours for any escalation of the complaint made earlier.
Confidentiality - The University will maintain the confidentiality of information.
Withdrawal: Student is free to withdraw her grievance, without prejudice, at any given point of time.
Besides the above mentioned, students may also get in touch with the Nodal Officer - appointed for the same - by using the following contact details:
Dr. Sreemoyee Chatterjee
Associate Professor
Department of Biotechnology
Mobile – 9783307311
Email – grievance@iisuniv.ac.in
The IIS University thus has a robust student grievance redressal mechanism in place, for ensuring publicity/ awareness of such measures available to them.
For any other matter not covered above, the UGC Redress of Grievances of Students Regulations, 2019 are followed in the right earnest. Student-grievances regarding examination Question Papers are taken up by another Committee constituted for that purpose. Such grievances pertain mainly to Question Papers if found to be based on items from outside the syllabus and/or with mistakes therein. Students are required to submit such a grievance to the Student Grievance Redressal Committee (Examinations) within seven days of that exam-conduction, for redressal of the same.