Start Date:
Wednesday, January 29, 2020
Topic : In the opinion of the House, ' The Fourth Estate has Failed to Strengthen Democracy in India'.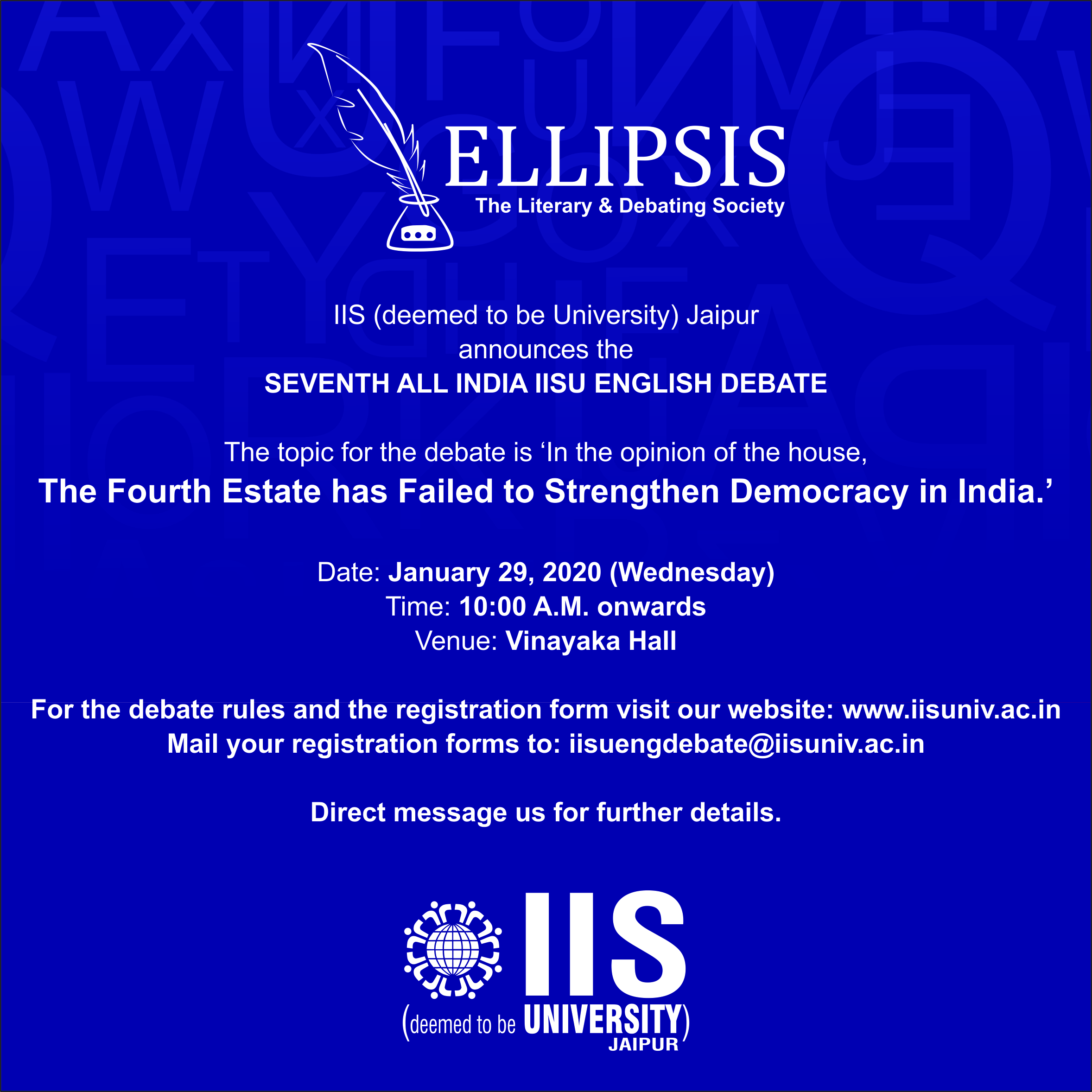 Eligibility and Team Structure :
 This competition is open to all Undergraduate and Postgraduate students pursuing a Bachelor's or Master's degree at any recognized educational institution in India.
 Each team will consist of two members. One speaker speaks for the motion and the other against, in keeping with the conventional style of debating. The participating institution is required to nominate   only one team for the competition.
Speaking Time:
4 minutes and 1 minute to conclude, per speaker
Registration:
Please register your team by email at the earliest. For registration, please mail to: iisuengdebate@iisuniv.ac.in .
Entry Deadline :
Your filled-in Registration form should reach the above mentioned email ID. by 27 Jan. '20.              .
Registration Fee :
The participating institution is required to pay a registration fee of Rs. 500/- per team. The mode of payment is either online or by DD, as per the details given in the Registration Form.
Local Hospitality :
Local hospitality will be taken care of. However, no TA will be paid by the host institution. The same may be borne by the participating institution.
Accommodation:
Accommodation can be arranged on request, by us. The team is required to intimate their requirement to us, in the Registration Form attached herewith, or book directly. In either case, they must make at least one day's advance payment to us or the hotel, as the case may be. Mentioned below are the details of the nearby budget hotels for your information  :
| Hotel | Phone No. |
| --- | --- |
| Ananta Lords' Inn | 0141-5176111 |
| Don Jon | 9999882515 |
You may contact the following for further information :
1. Dr. Ashmi Chhabra                                    9116006308, ashmi.chhabra @iisuniv.ac.in
2. Dr. Shivangi Bhatt                                     8875021379, shivangi.bhatt@iisuniv.ac.in                         
Participant I.D. and Forwarding letter: It is mandatory for all participants to carry an identity proof with them, preferably their institutional identity card. It is also compulsory for the participating team to bring their institution's nomination letter too.
Awards :
The winning team will be awarded a running shield. In addition to this, three best speakers will receive individual trophies.